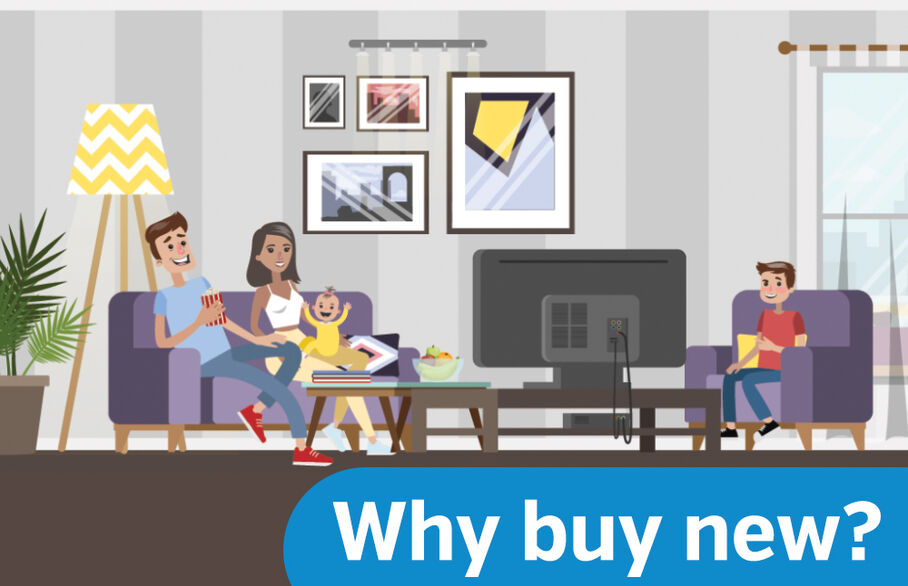 At LSL Land & New Homes we are very passionate about supporting developers and selling new homes, and we want customers to share this passion when purchasing a new home. In our series, 'Why Buy New?', we are going to explore many advantages, from the financial savings to the social benefits, of buying a new build home. In the second of our series, we're going to explore how new homes are being designed to suit modern life.
The census data collected in 2021 has been slowly released over the last year, revealing a wealth of interesting information about the homes people live in, and how they live. One interesting fact to emerge was the number of households with 4 or less rooms has decreased by 40% since 2011, this could be down to a myriad of factors, but it is probably no coincidence, that in the same period, google search interest for the phrase 'open plan' increased by 188%. Open plan is the norm for new homes in 2023, it's easy to forget that it was not so 25 years ago. Instead, as the trend for knocking down walls increased for home owners, alongside a wish for a more sociable home atmosphere, it was increasingly seen as the preferred choice when buying new.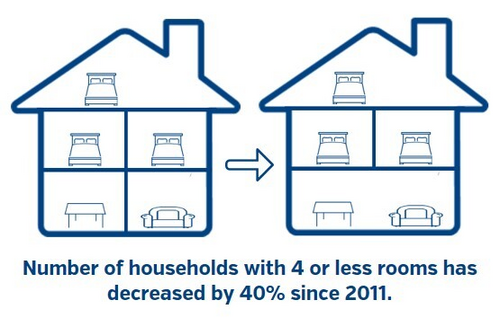 More recently, another trend has made an impact on the layouts people look for when buying a home; the pandemic's impact on working from home has significantly increased the number of people searching for home's with a home office. In 2022, a survey of house builders found that over a third would now be looking to include a dedicated 'work from home' space in their designs. When it comes to space, the concept of the national space standard is a relatively new one, laying out guidelines for house builders to follow to ensure that new homes meet the needs of their residents; since 1991 the average size of homes built has been larger than in previous decades.
Sometimes, the modern benefits of a new home are on a less grand scale. A modern 3-bedroom sim-detached home will have electrical sockets, often with USB ports, well located for the television or for phone charging on the bedside table. Such things were unlikely to be considered when the comparable 3 bedroom Victorian property was retroactively electrified! There are differences outside too, new houses are also more likely to have the garage and driveway space for cars, increasingly with an electric vehicle charging point. Considerations will also be made about where to store the myriad of different bins that are required for recycling, and the layouts of new build developments often result in more user friendly gardens, instead of a terraced row of narrow grassy strips.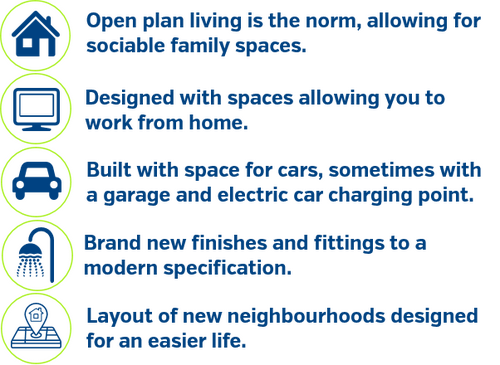 On a macro scale, the way entire developments are planned is increasingly holistic and community minded. Whilst the idea is not new, consider the factory villages of the industrial era, there has been a recent trend of multiple developers coming together to build whole new villages. This means that details like how easy is it to walk to the shops, how convenient is public transport, and how big a park would fit all the local children, are considered from the drawing board. In our city centres there has been an increase in the number of high amenity apartment blocks with a similar community and lifestyle focus, including gyms, a residents lounge or co-working spaces.
Ultimately, the most obvious way that new build homes look modern, is through their design. The kitchen will be brand new and stylish, there's not going to be any artex to deal with, and the finishes are going to look great throughout. Yet, whilst there are lots of changes you can make to the look of second hand homes, it will be hard to beat a new home that has been designed with modern living in mind. We all live differently to people 25 years ago, never mind 100 years ago, when plenty of UK homes were built, so there are many a reason to buy new. New homes are built with 21st century you in mind, it will be fit for your busy modern life from move in.
LSL Land & New Homes specialise in New Homes and provide expert advice to developers and housebuilders about their development with industry intel and insights. If you're a developer looking to create or market a development of new homes, we can connect your development to the right buyer through our extensive database of registered active buyers. Get in touch to find out how we can help.
0845 340 2940
Sources
Dataloft Inform – Census 2021 and the change in number of rooms

LABC Warranty – A third of home builders to provide work-from-home areas in new homes from 2022

Gov.UK – Technical housing standards – nationally described space standard

Savills – Size matters

NHBC – Avoiding rubbish design: providing for bin storage on new housing developments

Savills – Amenities: creating a point of difference