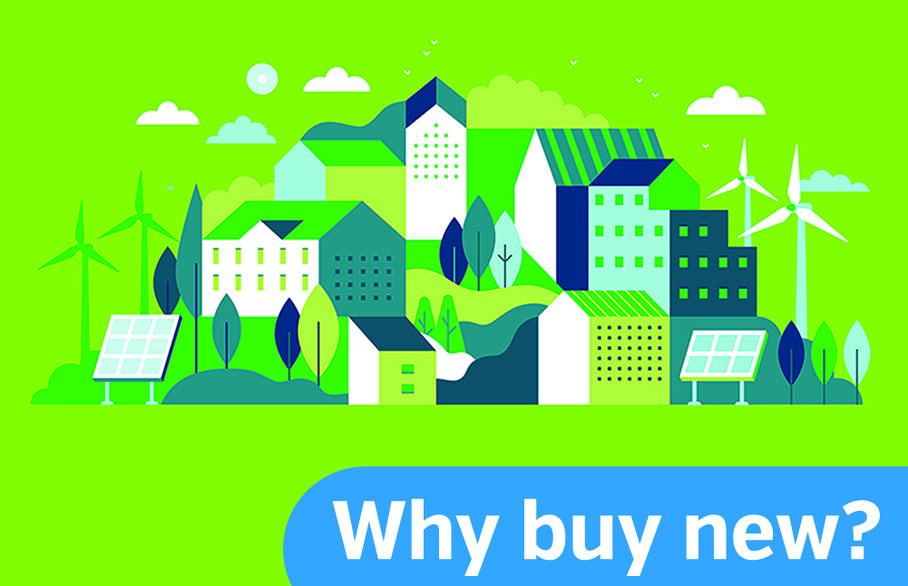 At LSL Land & New Homes, we are passionate about supporting developers and selling new homes, and we want customers to share this passion when purchasing a new home. In our series, 'Why Buy New?', we are going to explore many advantages, from the financial savings to the social benefits, of buying a new build home. In the first of our series, we're going to illustrate just how much you could save on energy bills by moving into a brand new, energy efficient home.
When it comes to the environmental efficiency of new homes, the key difference compared to second hand is Energy Performance Certificates (EPCs). In 2022, 85% of new homes built were assigned an EPC of A or B, the most efficient end of the spectrum, whilst of the entire UK housing stock, only 41% of homes achieve an EPC rating above a C. This shows how the vast majority of second hand homes have an efficiency standard that simply cannot compare to new builds.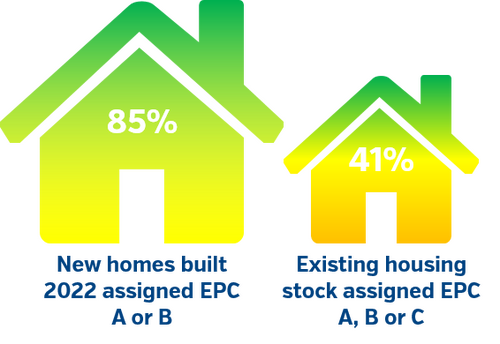 It might be easy to ignore what can seem like arbitrary letters attached to homes, but the reality of what the energy ratings mean in practice has become much more apparent in the last year. EPC ratings are calculated based on the amount of carbon dioxide emissions produced every year by the energy usage of the home. If you take two standard 3-bedroom homes of the exact same size; the one with a D rating will be emitting about 4 tonnes of CO2 a year, whilst the home with a B rating produces over half of that, just under 2 tonnes of CO2. It's easy to find out the EPC rating of your home, and how much CO2 it's producing, just go to the government website and enter your address, you might realise how much a new build home could save you.
This substantial difference in the amount of CO2 produced, is not only being released into the atmosphere to worsen the impacts of global warming, but is also means your bills cost more. One of the crucial ways new homes achieve a better EPC rating is down to the general build; with a higher standard of insulation than homes built 50, or even 20 years ago. This means that heat is retained better and so central heating doesn't need to be turned on as often or for as long, this is the point at which less carbon dioxide is produced, and energy savings are made. In fact, recent research suggests that buyers of new homes could be saving an average of over £3,000* in annual energy costs.
As well as insulation and triple glazing, EPC ratings take into account the ways that energy is generated, and New Homes are increasingly receiving great EPC ratings because whole developments are being built with solar panels or air source heat pumps incorporated. Even more modest technologies make a difference too, like the standard inclusion of smart thermostats that make is easier to control, and conserve, energy usage. Government policy is also trying to encourage developers to build more energy efficient homes with the 2025 Future Homes Standard, which will enforce rules for New Homes such as insulation standards and fitting more efficient boilers.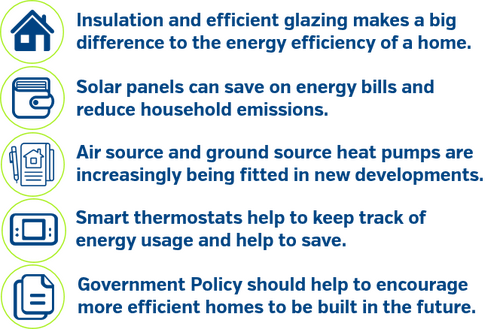 Energy bills have been a pressing concern for many in the last year, and saving money will always be welcome. Which brings us to … why buy new? Because a new build home can save you money whilst really doing something to help save the planet, a complete win-win.
LSL Land & New Homes specialise in New Homes - kick start your search into New Builds here. Make sure you check back soon for the next in our series for an in-depth look into Why Buy New?
If you're a developer looking to create or market a development of new homes, we can connect your development to the right buyer through our extensive database of registered active buyers.
*Statistics correct at time of writing, LSL Land & New Homes can not guarantee energy savings.
Sources
Zoopla - The true cost of upgrading an older home to new build energy standards

Estate Agent Today - Only 41% of homes in England meet recommend energy rating

Savills - Only 41% of homes in England meet recommend energy rating

Green Match - Future Homes Standard – Setting Targets for Energy Efficiency