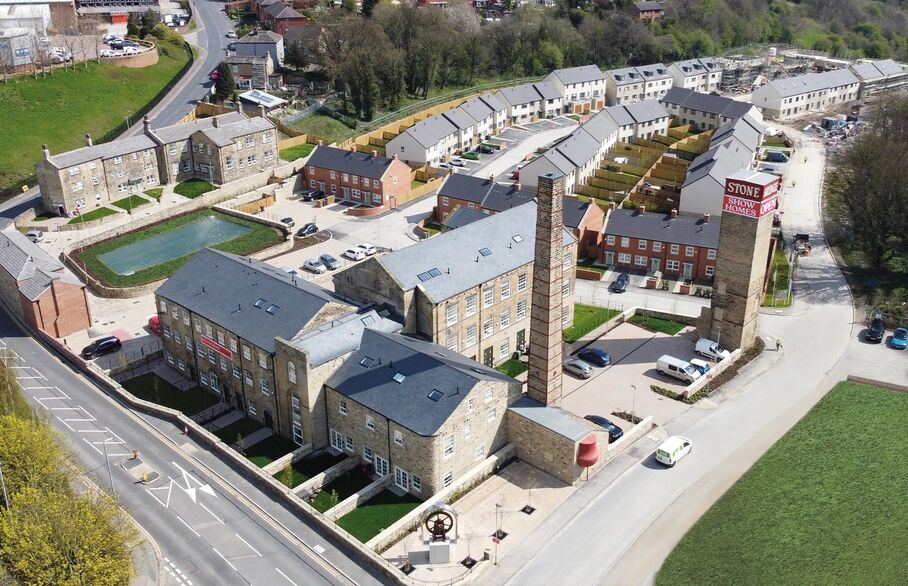 At LSL Land & New Homes, we specialise in new homes and finding the land for developers to build those homes. We also have another role adjacent to these two. Finding places with immense potential to be redeveloped, plots with old, dilapidated buildings that developers can breathe new life into them and transform them into modern new homes.
Regeneration opportunities of existing buildings, are not uncommon, particularly in post-industrial areas of the north or in urban business districts. Often in practice, regeneration is not that different to starting a new build; there is unlikely to be walls in all the right places, and there will be a lot of work for plumbers and electricians. In some cases, redevelopment projects also offer adjoining land allowing for the creation of a harmonious mix of homes.
There are various benefits to redeveloping existing structures compared to tearing down and starting from scratch. For instance, preserving cultural and architectural value. Listed buildings that cannot be demolished can be transformed into homes, ensuring their historical and cultural significance endures. This may involve navigating additional planning considerations but results in unique architectural marvels.
Another community value of redevelopment is sites are often centrally located, benefiting from proximity to established transport links and amenities, fostering a sense of community. From a building point of view, permitted development rights also mean that the redevelopment of vacant buildings can sometimes have an easier route through the planning process, with policy that allows for change of use from commercial to residential.
It's also a more sustainable option in most cases, without the waste and energy usage associated with demolition.
One report suggested in 2021 that converting an existing building into homes is on average 35% cheaper per square metre than building new, that was £670, offering potential savings in an increasingly expensive construction market.
LSL Land & New Homes, alongside our partners, proudly presents a range of development projects across the country that exemplify the transformative power of redevelopment. With the revitalization of existing structure, modern homes are created, that respect the heritage and character of the communities they inhabit.
Leslie House – Glenrothes
An A-Listed Stately Home and Estate in the heart of Fife, the mansion house that dates back to 1667 has been transformed into apartments, with detached courtyard homes and newly built gatehouses. Redeveloped properties benefit from original period features as well as designer finishes, whilst new homes
complement the estates existing grandeur. The elegant home and grounds have been restored to former glory, and all residents can enjoy use of extensive landscaped gardens.
Take a look at this 1-bedroom apartment overlooking the courtyard.
Wickham House – High Wycombe
A Grade II listed building that has been redeveloped into a collection of high specification apartments in their own gated development. Charming features like
original fireplaces and impressive staircases conserved and supplemented by stylish modern kitchens and luxurious finishes. The development also benefits from a sophisticated communal area and allocated parking, alongside an excellent central location.
Take a look at this stylish and unique 1-bedroom apartment.
A conversion of a historic grade II listed mill and mill cottages, alongside the construction of brand new homes. The result is a development that combines industrial history with contemporary demand for high standard family homes,
and it has been given the seal of approval by a local history group who applauded the sensitive conversion. All the homes benefit from being finished to a high standard with energy efficient specifications, whilst remaining sympathetic to the sites heritage.
Take a look at this 2-bedroom restored former mill cottage.
Copers Cope Road – Beckenham
An old nursing home and former Victorian villa was transformed, with the help of a new build addition, into 19 high standard apartments in a popular area of
Bromley. As an historic building the development benefits from high ceilings and stylish sash windows that keeps the building rooted in the past even whilst being redeveloped once again into modern new homes.
Take a look at this 2-bedroom apartment with private terrace.
Whether you seek a new build or a regeneration opportunity, reach out to us, and we'll assist you in finding the perfect development project. Together, let's create vibrant, sustainable communities for the future. Get in touch.
Sources
PBC Today: The sustainable regeneration of historic buildings

Faraday Planning: What are Permitted Development Rights in 2023?

Housing Today: Re-focus Homes England to convert existing buildings, says commission

Stonebridge Beck

Leslie House