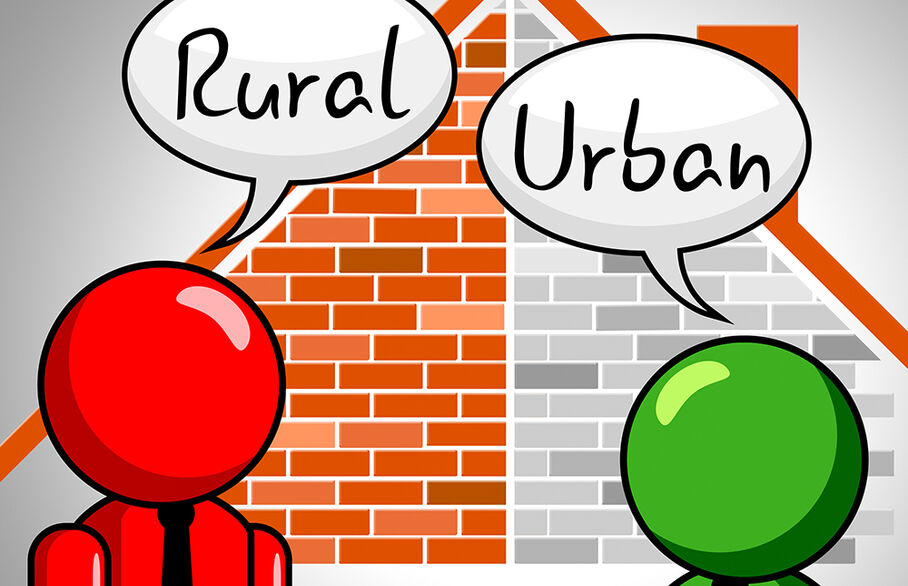 Since the housing market opened up in summer 2020 we have seen a Covid-induced property boom, and numerous trends emerged, like the so-called 'race for space'. Another apparent shift in house buyers' tendencies was a general exodus from cities, particularly London, as people sought a rural idyll rather than an urban jungle.
Location location location
Location has always mattered when it comes to people buying homes, commute times, school catchment areas, entertainment, family ties, all go into choosing the right post code. According to a survey in 2021 the top reason is a desire for a change of lifestyle or scenery, or for the more cash strapped buyer the need to upsize.
The Covid-induced lockdowns saw a significant change to people's way of life, working from home had become the norm for almost 50% of workers, and for many that looks to be a permanent shift. So, one of those key location variables, commute time, had been struck off the list opening up a range of new locations for people to choose from. This seemed to be reflected in the housing market too, as house prices saw increases in rural areas. The average house price in Wales has increased by £19.35% in the last 2 years, whilst in the South West it was 15.05%.
Top British locations include rural areas
There are more specific examples too, the table below shows the 10 locations in Britain which have seen the biggest increase in house prices in the last year. When considering the location, some patterns emerge, 7 of the 10 locations are larger local towns in relatively rural locations. It is also interesting to consider that 6 of the areas are within Travel to Work Areas (where people in an area tend to work, based on 2011 census data) that do not have a major city as a centre of employment. The growth in house prices could be reflecting that people are moving away from locations within easy reach of big commuter cities, choosing to move further away as work patterns shift to increased working from home.
Of course, rural areas of the UK have not been deserted up until the pandemic, there are areas like the Cotswolds, Kent or Cornwall where house prices have been high for a long time. Yet there are plenty of areas that sit outside of the major urban employment areas of the UK, and outside of traditionally popular areas.
| | | |
| --- | --- | --- |
| Location | Annual price growth | Description |
| Brixham, Devon | 25% | Fishing town, rural, coastal, Torquay/Paignton TTWA |
| Jesmond, Newcastle Upon Tyne | 23% | City centre, students |
| Farnham, Surrey | 22% | Market town, rural, Guilford/Aldershot TTWA |
| Raunds, Northamptonshire | 21% | Market town, rural, Kettering/Wellingborough TTWA |
| Gedling, Nottinghamshire | 21% | Suburban, Nottingham TTWA |
| Newton-Le-Willows, Merseyside | 21% | Market town, rural, Warrington/Wigan TTWA |
| Cowes, Isle Of Wight | 20% | Seaport town, rural, coastal, Isle of White TTWA |
| Heysham, Lancashire | 20% | Coastal town, rural, coastal, Lancaster/Morecambe TTWA |
| Childwall, Merseyside | 20% | Suburban, Liverpool TTWA |
| North Walsham, Norfolk | 20% | Market town, rural, Norwich TTWA |
*TTWA - Travel to work area
Freedom and flexibility
The reality is that the trend is not as simple as moving to a rural idyll. It's about work-from-homers who now have the freedom to move further away from urban areas, and get more for their money. Yes, they might get a peaceful rural landscape, but maybe a bigger house, bigger garden, better school catchment area, or location closer to family.
Village life won't be for everyone, people moving from a cosmopolitan hub to an area without a strong phone signal or an endless list of food outlets offering delivery might end up sorely disappointed. When you consider the real impact that flexible working choices might have on home buying preferences, it is the in-between that jumps out, if there's no need to live within touching distance of a metropolis than why not try one of the smaller cities or towns. Areas that have been being deserted as
TOP TOWNS – Three of the best destinations for those leaving big cities behind
Sources: Inform Dataloft, The Guardian, Rightmove.