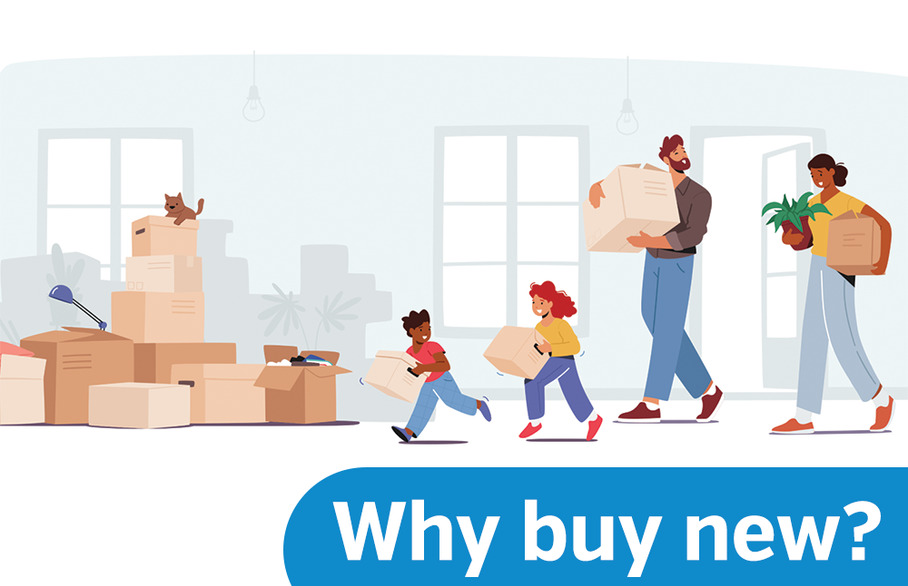 At LSL Land & New Homes, we are passionate about supporting developers and selling new homes, and we want customers to share this passion when purchasing a new home. In our series, 'Why Buy New?', we've explored various reasons why buying a new home is a smart choice. In this final instalment, we'll delve into how new homes offer a blank canvas for homeowners, allowing them to create their ideal space and community.
As we enter the back-to-school season, it's a time for new beginnings and fresh opportunities. For many, this new beginning starts in a new home, particularly in the UK, where August is the most popular month for moving. Moving into a new build property offers an exciting blank canvas to work with.
The most noticeable aspect of this blank canvas is the interiors of the homes themselves. New homes come with brand-new, unused appliances and interiors that are often painted in a sleek and neutral white. What's more, developers frequently offer options for buyers to make interior decisions even before they move in, such as selecting flooring or upgrading kitchen finishes. This allows new homeowners to explore their space at their own pace without the pressure of immediate changes or upgrades, as discussed in a previous blog in this series. It's a chance to simply relax and enjoy their new surroundings.
Unlike the challenges of redecorating a home with older finishes or tackling outdated design choices from decades past, new homeowners can start fresh. Instead of the expense of tackling Artex, they can cook in their new kitchen without worrying about deep cleaning an old oven, decide where every picture hook hangs, and infuse their unique personality into their new home.
But the advantages of a new home go beyond interior design. New homeowners also avoid the precarious position of being part of a buying chain. Purchasing a new build removes the reliance on the seller finding another property to buy, eliminating the potential delays caused by multiple transactions. On average, new build homes reach completion 28 days faster than their second-hand counterparts because any delays are typically limited to getting the home finished and ready for occupancy. Plus, there's the added benefit of not having to deal with redirecting post or finding belongings left behind by the previous owner, leaving the new home fresh and ready for new memories.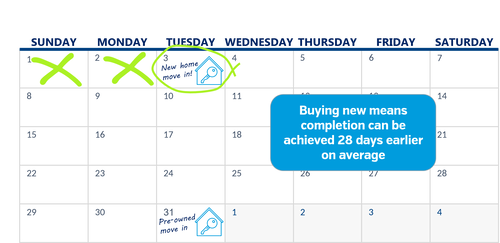 In many cases, new homes are part of larger developments, which means that as each buyer takes ownership and settles in, a new community is born. This shared experience allows residents to get to know each other simultaneously. Families with young children may find next-door neighbours with potential playmates, while those downsizing can connect with others adjusting to a new way of life.
In some larger developments, new homes are built alongside new infrastructure, such as parks or sports facilities. As of 2020, homebuilders were contributing an average of £45 million annually to local community spaces and investing £74 million each year into local green spaces, further enriching the community experience.

In conclusion, one of the most compelling answers to the question, 'Why Buy New?', is simply because it is new. New homes come without the baggage of history or hidden issues, offering a chance to embark on the next phase of life by creating the perfect house and community for you.
If you're a developer looking to create or market a development of new homes, LSL Land & New Homes specialise in providing expert advice informed by industry insights. We can also connect your development to the right buyer through our extensive database of registered active buyers.
Get in touch to find out how we can assist you.
https://www.lsllandandnewhomes.co.uk
0845 340 2940
Sources:
Compare My Move – When is the Best Day and Time of Year to Move House?

House Builders Federation – Building Communities – Making Place a Home

Today's Conveyancer – New-build homes sell 28 days quicker

New Homes.Place – Your New-build is a blank canvas