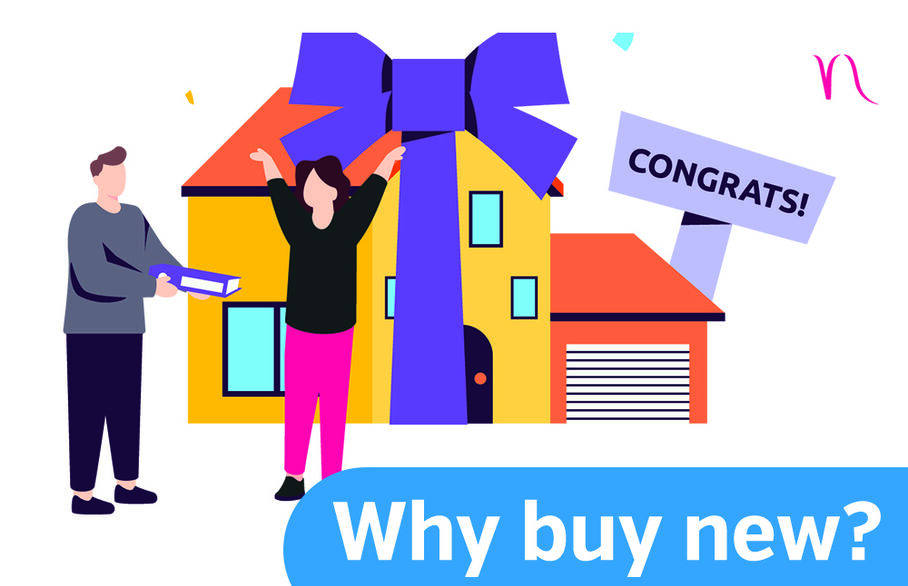 At LSL Land & New Homes, we are passionate about supporting developers and selling new homes, and we want to share our passion with customers who are considering purchasing a new home. In this fourth instalment of our ongoing series, 'Why Buy New?', we delve into the numerous advantages of investing in a new build home, from financial savings to social benefits.
In this blog, we explore how new build homes offer a wide array of buying options with a variety of schemes and incentives that make buying new an excellent and affordable choice.
Expert Guidance and Partnerships
At LSL Land & New Homes, we collaborate with our partner divisions; The PX Hub, The SO Hub, and Estate Agency Franchises, and are well-versed in the various schemes and incentives that make New Homes an attractive choice for buyers. In our mission to answer the 'Why Buy New?' question, we have compiled a comprehensive list of different options that can help enhance buyers' affordability.
Part Exchange & Assisted Move
These two options are designed to simplify the process of selling an existing home and facilitate the purchase of a new build. Part Exchange and Assisted Move offer buyers the opportunity to receive help from the developer in selling their home, providing expert advice and allowing them to reserve a new build home sooner. These options streamline the moving process, making it quicker, less stressful, and often more cost-effective.
Deposit Unlock
Launched in 2021 as a response to the end of Help to Buy, Deposit Unlock was devised by the House Builders Federation in collaboration with several lenders independently of government involvement. It allows buyers to purchase a new build home with only a 5% deposit but with a better interest rate than a 95% loan. The house builder contributes a percentage of the purchase price into an insurance policy for the mortgage provider, reducing the lender's liability and, subsequently, the interest rate. This scheme is open to all buyers, not just First Time Buyers, provided they are purchasing their main and only home and are borrowing a maximum of £750,000.
Mortgage Guarantee Scheme
Similar to Deposit Unlock, this scheme also offers the option of buying a home with only a 5% deposit to all buyers, but this version has government involvement. The government guarantees 15% of the loan, providing assurance to mortgage lenders in case buyers default on their mortgage. With thousands of households already taking advantage of this scheme, it remains open until December 2023.
First Homes Scheme
Targeted specifically at First Time Buyers and Key Workers, the First Homes Scheme offers new build homes for sale at a 30-50% discount. This reduced rate applies again when the property is sold, making it an appealing option for eligible buyers. However, there are specific eligibility criteria, including earning less than £80,000 as a household (£90,000 in London), and the property's cost must not exceed £250,000 (£420,000 in London).
Shared Ownership
A scheme that benefits both buyers and developers by reducing the hurdles to homeownership; Shared Ownership is open to those with an income below £80,000 who are unable to purchase a home at market value, subject to specific eligibility criteria. Buyers can purchase a share of the home, requiring a smaller deposit, and they pay a proportionate rent on the remaining share. They can then gradually increase their ownership share, staircase up to full ownership, over time.
Rent to Buy
Under this umbrella, various schemes exist depending on the provider and location. In England and Northern Ireland, people can rent a new build home at approximately 20% below market rent for up to 5 years, using the saved money to build up a deposit to eventually purchase a share or the entirety of the property. In Wales, people rent at market value, and after 2 to 5 years of occupation, they have the opportunity to buy the property, receiving back 25% of the rent paid and 50% of any increase in the property's value to use as their deposit.
Developer Incentives
Apart from the schemes, developers often offer incentives to buyers, such as paying Stamp Duty (or Land Tax) fees, covering legal fees, providing free upgrades like flooring and appliances, or offering cash or gift cards for furnishing the new home. Some incentives may even complement existing schemes, like paying a few months' rent on a Shared Ownership home. While incentives are typically subject to eligibility criteria or a matter of luck, they are worth considering to reduce initial costs and enjoy extra perks.
Schemes and incentives significantly expand the options available to buyers when purchasing a new home. While some schemes have specific eligibility criteria, developers are often willing to provide a helping hand through options like Part Exchange or Assisted Move. So, why buy new? Because new build homes offer an abundance of buying options that can enhance your homeownership journey. Consider exploring these schemes and incentives when searching for your dream home.
For developers, these schemes can help buyers to purchase a new build home with a smaller deposit, a lower mortgage rate, or a discounted price. By offering these, you can make your homes more affordable and accessible to a wider range of buyers, for more information, visit our website or contact us today.
www.lsllandandnewhomes.co.uk
0845 340 2940
If you're a developer looking to create or market a development of new homes, we can connect your development to the right buyer through our extensive database of registered active buyers.
Disclaimer: all home buying schemes listed are subject to individual terms and conditions.
Sources
Zoopla – What buying schemes are available for new-build homes?

Home Owners Alliance – Government home buying schemes in 2023

U Switch – Deposit unlock scheme

Gov.uk – Government extends Mortgage Guarantee Scheme

Home Owners Alliance – Rent to Buy: How the government can help you buy a home