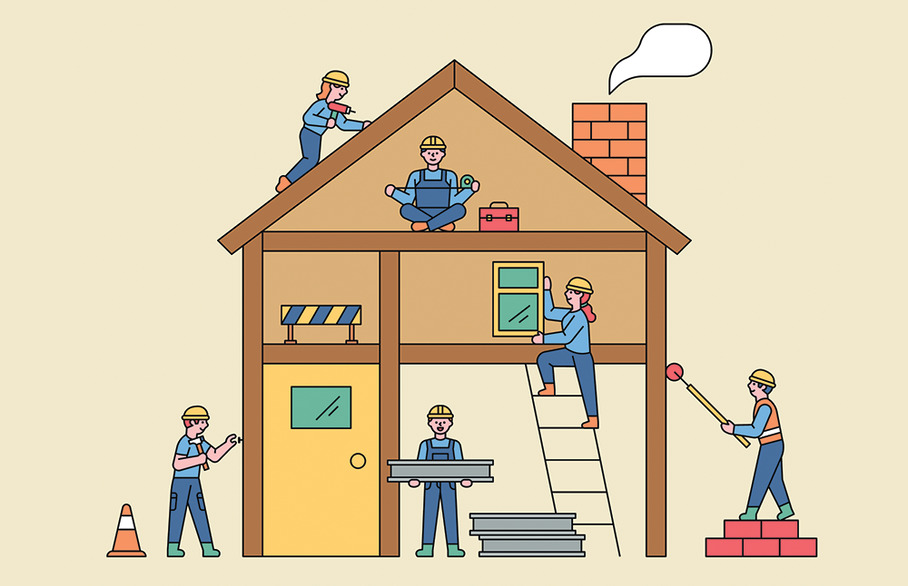 Buying a new home is an exciting process, and it becomes uniquely thrilling when you have the chance to build your dream home precisely to your liking. If you're looking for a stunning new home, a relatively relaxed moving process, without unforeseen expenses, makes choosing to purchase a new build home a great option. But, if your heart is set on the satisfaction of witnessing your dream home materialise from the ground up, then you're in for an adventure! Dive into our invaluable, expert informed guide to kick-start this amazing journey of self-build.
Before you dive headfirst into the world of self-building, it's crucial to evaluate whether you possess the necessary skills for such a massive project. Managing the hustle and bustle of daily life is already a challenge, and self-builders need extraordinary organisational skills to oversee every aspect of construction, as well as an ample supply of patience and resilience to cope with the long and often bumpy road ahead.

Step 1: Setting Your Budget
If you're up for the challenge, the next step is nailing down that all-important budget. Self-building involves budgeting for various components, from land and labour to materials. The bulk of your funds will likely go towards the plot, basic foundations, and the structure itself. It's a smart move to allocate around 20% for contingencies to cover unexpected costs. While you can budget for every stage of the building process, it's wise to have some extra funds as a safety net. If you don't end up needing it, you can always redirect it to your decorating budget at the end.

Step 2: Finding the Perfect Plot
With your budget in place, it's time to secure your plot, and as our expert, Neil Dickens, Regional Managing Director North, advises,
"Investing in the best location is worth the extra money because the finished house can be altered, but it can't be moved."
Alongside the usual considerations about the location, be sure to check for local authority conservation rules. The ease of construction also varies with the terrain, so consult with an expert to determine if the land is suitable for your project. Also, factor in the cost and ease of connecting utilities. Buying land with existing planning permission might be pricier, but it can simplify the process, especially if you like the existing house plans.
Step 3: Building Your Dream Team
While having construction experience is invaluable, you'll likely need to hire professionals. Start by realistically assessing how much of the process you can handle yourself; it's better to let the pros handle the critical aspects while saving the handy work for later. Begin your search for reliable builders and tradespeople with relevant experience and qualifications, and gather as many recommendations as possible to ensure top-quality work. Consider the expertise of a professional project manager to streamline the process and alleviate some of the stress during this sometimes demanding build process.

Step 4: Mastering Material Management
Managing materials will test your organisational skills in the self-building journey. Material costs have been rather unpredictable in recent years, so having a precise idea of your needs will help you plan ahead and navigate price fluctuations. Invest your money wisely in things that are difficult to change later. As our expert aptly puts it,
"Build the size of the house you require. If it means cutting costs on bathrooms and kitchens, you can upgrade them later when funds allow. Costly features like underfloor heating should be installed during the build since retrofitting would be considerably more expensive."
Additionally, you can claim back VAT on materials once the build is completed, so keeping track of receipts and paperwork is essential for both budget management and tax benefits.
Self-building a home is a multifaceted endeavour, but focusing on budgeting, land acquisition, labour, and materials will set you on the right path. The key to success throughout the process is making well-informed decisions and using every tool you have to understand the process. Self-building is no small feat, and it should be approached with careful consideration. However, if constructing your dream home is your ultimate goal, then go ahead and get started!
Looking to start your self-build journey? LSL Land & New Homes have plots available across the country, take a look. If a self-build is not the choice for you, take a look at our new homes listings to get the brand new finishes without the hassle.
https://www.lsllandandnewhomes.co.uk
0845 340 2940